Boxer shorts Thomas are our newest solution for particularly beautiful men's underpants without drifting into vinyl/leather/fetish. The wide lace insert on the side is made of a graphic, guaranteed scratch-free lace (the same as in the Bralette Flora, by the way) and gives the boxer shorts that certain something. The rest of the fabric is an innovative mixture of 50% Tencel and 50% soya - i.e. made entirely of natural fibers, incredibly soft and cuddly to the touch, but still with a pleasant firmness. Our test wearers were all enthusiastic :)
What is special about Thomas, apart from the fabric and lace inserts, is the cut: we worked on it for a long time to sew not only the most beautiful but also the most comfortable boxer shorts, and therefore Thomas has the following advantages: the leg tends to be cut a little longer, the gusset in the crotch is doubled for a long service life - but we have processed all the seams in such a way that nothing pinches! We chose a subtle, black elastic waistband for the upper end, which provides excellent support without constricting.
Ah yes, and for us that goes without saying, but again: our men's boxer shorts are also sewn 100% by ourselves in our workshop in Vienna Margareten, where else
Wir empfehlen, unsre Wäsche in ein Wäschesackerl zu geben, damit die Spitze nirgends in der Maschine oder an andren Wäschestücken hängen bleiben kann. Natürlich bleibt die Wäsche umso schöner, je sorgsamer du sie wäschst, also im Optimalfall nur bei 30 Grad Feinwäsche. Wichtig wäre außerdem, auf Weichspüler und Waschmittel, die Bleiche enthalten, zu verzichten, da Bleiche die Elasthanfasern angreift. Ansonsten ist die Wäsche aber sehr unkompliziert in der Pflege – denn wir möchten Lieblingswäsche machen, die man jeden Tag gerne trägt, und dafür ist eine einfache Pflege essentiell. <3
Jersey: Sojafaser 28%, Modal 47% , Elasthan 5%
Spitzendetails: 80% Recyceltes Polyamid, 20% Elasthan
Bundgummi: 90% Polyamid, 10% Elasthan

Die Spitze für die Spitzendetails beziehen wir aus deutscher Produktion, die Fasern werden aus Abfall der Textilindustrie recycelt.
Der unglaublich angenehme Naturfaserjersey besteht zum Großteil aus Modal, einer innovativen Faser, die in Oberösterreich aus Buchenholz gewonnen wird, und zu fast 30% auch aus Sojafaser, einer nachhaltigen Faser die dem Stoff eine unglaublich weiche, angenehme Textur verleiht.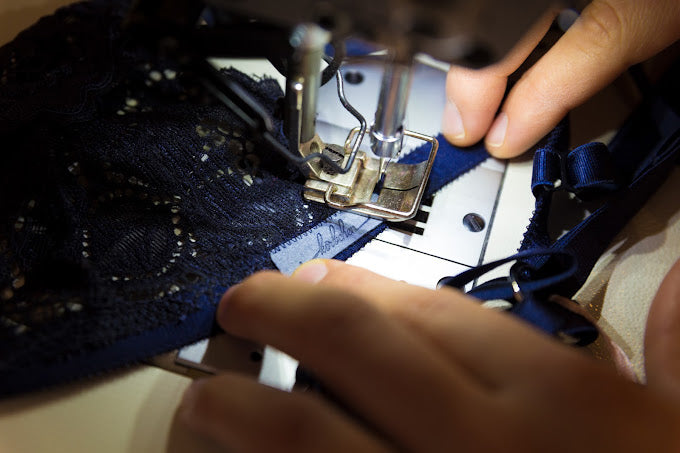 Handwork at the highest level
There is a part of us in every piece of laundry
Each piece of laundry was sewn with a lot of love and conscientiousness either by us, Victoria and Elisabeth, or by one of our seven great employees Mira, Monika, Rosi, Lea, Julia, Sascha and Sabrina.
You can see that in the result - and you can feel it too
Consciously sustainable sourcing
Because fair fashion begins with the materials
We obtain all our materials from overproduction and "leftovers" from the European luxury fashion industry, "rescued tips" so to speak.
We also purchase lace, rubber straps, etc. from various traditional companies, mostly from Germany and Italy.

Since 2021, almost all newly produced lace and swimwear have been made from recycled fibers.