Beautiful tips, fantastically playful cut
Handmade, with attention to detail
Noble designs, sustainably manufactured in Austria - for all women
Not just a leitmotif, but an identity
Sustainability and fair fashion
For us, fairly produced fashion is not only a personal life decision, but also the orientation and philosophy of our company.
The basis of sustainable production is regional production, here in our workshop in the 5th district of Vienna. Since September 2019, our team has steadily grown a bit, so that we now employ a total of 7 hard-working little tailors, but we two founders still sit at the sewing machine every day, because we have so much joy in sewing and fulfillment in our work find in our team
Consciously sustainable sourcing
Because ecological action not only feels good on the skin
We get our materials from two different sources. The majority comes from overproduction and "leftovers" from the European luxury fashion industry, "rescued tips" so to speak.
We also purchase lace, rubber straps, etc. from various traditional companies, mostly from Germany and Italy.
Since 2021, almost all newly produced lace and swimwear have been made from recycled fibers.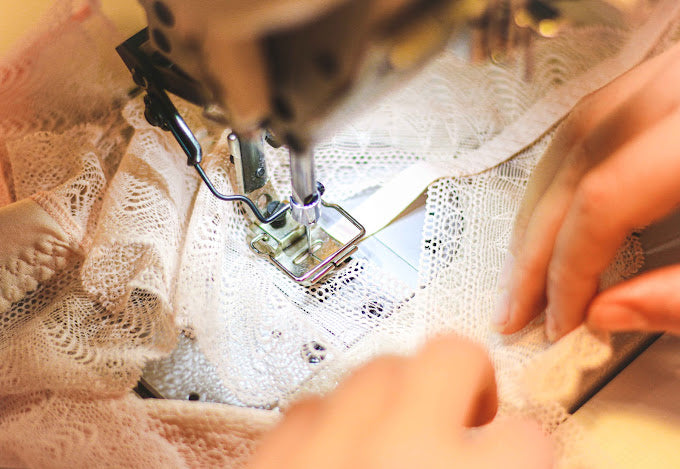 durability under guarantee
Because with a favorite piece you hope that it will last forever
As far as the maintenance of our company is concerned, we try to work in a way that is as resource-saving and sustainable as possible. For example, we run our entire sewing business with green electricity and collect our leftovers from the cutting and reuse them. However, what makes the biggest difference for our customers is our intention to produce favorite pieces that can and should be worn for years. This also means that if anything in our laundry doesn't quite fit anymore/brings you joy, you can come back at any time and we'll repair and restore it for you.
Because bodies are unique
The new standard for comfortable elegance.
Feels and fits like it was custom made
Lingerie, free from annoying metal hangers
Good fit, comfortability and comfort
For us, the bralettes are not only about the visual appeal, but also about our customers feeling comfortable in their underwear. That's why we don't have a single item of lingerie with metal hangers.
We sew underwear with which you can easily fall asleep on the couch and wake up hours later without any discomfort and without iron marks.
Bralettes for all kinds of body types
Every woman is beautiful and every body is unique
It is very important to us to convey a positive body image. That's why we aim to emphasize the beauty of every woman with our underwear - no matter what figure she has. It is well known that you are at your most beautiful when you are happy and feeling good. This is exactly what we try to achieve with our laundry.
Because bodies rarely meet standards
Matching sizes - for every figure
All our bralettes are available in lots different sizes - for some models we even have up to 26 sizes in stock in our studio.

We not only differentiate according to cup size (S, M, L and XL), but also combine the different underbust measurements in a way that is otherwise only known from "normal" bras. That means that we have our S-Cup with a width of about 70 (for very delicate women) or 80 (for women with a wider chest but smaller bust size).
Conversely, we also have suitable models for very slim women with a large bust size. That means we always have a solution that fits cup sizes A to F, and since we sew everything ourselves, we are also very flexible when it comes to underbust measurements. You can read more about this under Sizes in the FAQ's.