Bikini top Aika is our variant of a bandeau bikini: Simple, practical, super comfortable and with a beautiful cut-out detail in the back.
Aika doesn't have any straps in this color variant - but it holds up really well thanks to the rubber bands with which the upper part is edged. The lower edge is held a little tighter so that it stays in place, the upper edge is edged a little more loosely so that Aika doesn't squeeze her breasts - the result is that the whole thing looks stunning despite, or perhaps because of, the simplicity
Unsere Bademode kann problemlos auch in der Waschmaschine gewaschen werden, und zwar empfehlen wir 30 Grad Feinwäsche. Außerdem wäre wichtig, auf Weichspüler und Waschmittel, die Bleiche enthalten, zu verzichten, da Bleiche die Elasthanfasern angreift.
Ansonsten empfehlen wir, die Bademode nach dem Gang ins Wasser beziehungsweise am Abend nach dem Badetag, gut mit klarem Wasser auszuspülen, denn so werden Chlor- und Salzwasser-Reste einfach entfernt und können die Stücke nicht weiter angreifen – und sie bleiben umso länger schön <3.
85 % Ecoyarn PES
15 % Elasthan

All unsere Badestoffe sind aus recyceltem Ecoyarn, eine Faser welche aus alten Plastikflaschen hergestellt wird. Unser spanischer Stoff-Hersteller ist seit Jahren Vorreiter im Bereich nachhaltiger Materialproduktion und zeichnet sich aus bei der Wassereinsparung, kurzen Lieferwegen und der Verwendung von sauberer Energie in der Produktion.

Weil wir immer wieder gefragt werden: Wo es möglich ist, verwenden wir sehr gerne Naturmaterialen, bei Bademode ist es aber aufgrund der Anforderungen an das Material leider nicht möglich, da hier die Salz- und Chlorwasserbeständigkeit im Vordergrund steht. Unsere Lösung darauf ist, dass unsere Stoffe Plastikmüll aus dem Ozean ein neues Leben einhauchen, indem dieser zu Textilfasern verarbeitet wird. Gut für den Ozean, die Umwelt, das Klima – und wir freuen uns auch!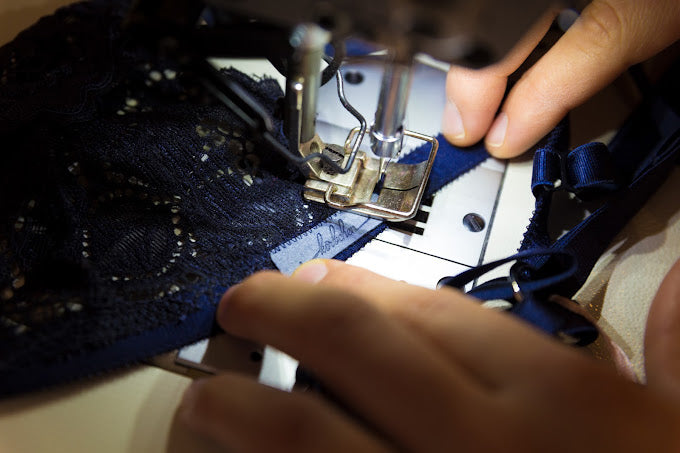 Handwork at the highest level
There is a part of us in every piece of laundry
Each piece of laundry was sewn with a lot of love and conscientiousness either by us, Victoria and Elisabeth, or by one of our seven great employees Mira, Monika, Rosi, Lea, Julia, Sascha and Sabrina.
You can see that in the result - and you can feel it too
Consciously sustainable sourcing
Because fair fashion begins with the materials
We obtain all our materials from overproduction and "leftovers" from the European luxury fashion industry, "rescued tips" so to speak.
We also purchase lace, rubber straps, etc. from various traditional companies, mostly from Germany and Italy.

Since 2021, almost all newly produced lace and swimwear have been made from recycled fibers.