For lace body Lotta we have not only a beautiful floral - recycled! - Lace inserted, but also a graphically patterned, delicate tulle. This feels super soft, and its transparent look makes Lotta a very special eye-catcher. On the sides of the body and on the cups, the - slightly more opaque - lace is in use, but the entire front and back are completely transparent. So Lotta is a super comfortable body, with a "normal" cut at the bottom, and very easy to put on - but still super sexy because of the transparency.
The straps of Lotta are adjustable in length and have a nice back detail on the back.
Another special feature of Lotta's cut is that we have relied on our tried and tested system, which also works so well with our bralettes: Lotta sits a little tighter under the chest and gives a great hold, so you can wear Lotta instead of a bra or bra without losing the feeling of hold. Cups are then attached at the top, each of which is also adjustable to one size.
In the crotch Lotta has a snap closure, where we have rounded the corners, so that nothing pinch in the crotch <3



Lotta is a special, limited edition, because we have only very little of the beautiful tulle - that means if you would like to have our Lotta in this color variant, better be quick!
Unsere Loungewear, die ja zum Großteil aus Naturfasern besteht, ist sehr unkompliziert zu pflegen. Wir empfehlen, die Stücke bei 30 Grad Feinwäsche in der Waschmaschine zu waschen. Bügeln ist zwar problemlos möglich, aber nicht notwendig, da die elastischen Fasern sich quasi von alleine wieder glätten, wenn du die Stücke zum Trocknen aufhängst.
Wichtig wäre, auf Weichspüler und Waschmittel, die Bleiche enthalten, zu verzichten, und die Stücke (gerade am Anfang) mit ähnlichen Farben zu waschen.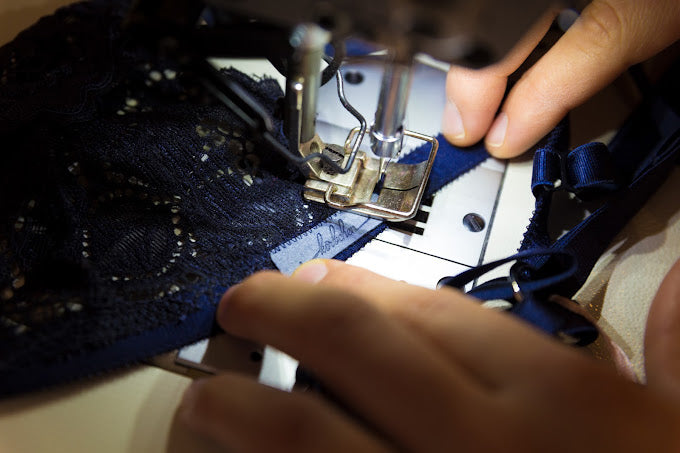 Handwork at the highest level
There is a part of us in every piece of laundry
Each piece of laundry was sewn with a lot of love and conscientiousness either by us, Victoria and Elisabeth, or by one of our seven great employees Mira, Monika, Rosi, Lea, Julia, Sascha and Sabrina.
You can see that in the result - and you can feel it too
Consciously sustainable sourcing
Because fair fashion begins with the materials
We obtain all our materials from overproduction and "leftovers" from the European luxury fashion industry, "rescued tips" so to speak.
We also purchase lace, rubber straps, etc. from various traditional companies, mostly from Germany and Italy.

Since 2021, almost all newly produced lace and swimwear have been made from recycled fibers.