Our Selena robe is the optimal garment to quickly "throw" something - and still look stunning. Whether for breakfast in style, to cuddle on the couch or to quickly open the door to the postman - Selena is not only beautiful, but also absolutely suitable for everyday life, and still something very special.


Selena is made from a super soft burgundy soy jersey combined with a recycled lingerie lace. At the bottom and at the sleeves we have made a super delicate, soft lace in bordeaux, which we have specially dyed in the color of our soy jersey.

The front edge is additionally framed with a delicate lace border. For a bit of extra width, Selena has incorporated a fold in the back, so that the back falls in soft folds and there is definitely enough width for Selena to be able to close the front effortlessly.

As a practical extra, Selena has also incorporated pockets on the left and right, which makes this beautiful morning coat even more suitable for everyday use.

We only produce our Selena in one size - but thanks to the soft cut it is super suitable for sizes between 34 and 48. The model Veronika in the picture is about 1,65m tall - for info, so you can estimate the length. Selena is closed by a band at the front.
Unsere Loungewear, die ja zum Großteil aus Naturfasern besteht, ist sehr unkompliziert zu pflegen. Wir empfehlen, die Stücke bei 30 Grad Feinwäsche in der Waschmaschine zu waschen. Bügeln ist zwar problemlos möglich, aber nicht notwendig, da die elastischen Fasern sich quasi von alleine wieder glätten, wenn du die Stücke zum Trocknen aufhängst.
Wichtig wäre, auf Weichspüler und Waschmittel, die Bleiche enthalten, zu verzichten, und die Stücke (gerade am Anfang) mit ähnlichen Farben zu waschen.
Jersey: soy fiber 28%, modal 47%, elastane 5%

Lace Details: 80% Recycled Polyamide, 20% Elastane

We obtain the lace for the lace details from German production, the fibers are recycled from waste from the textile industry.

The incredibly comfortable natural fiber jersey consists mainly of modal, an innovative fiber that is obtained from beech wood in Upper Austria, and almost 30% also of soy fiber, a sustainable fiber that gives the fabric an incredibly soft, comfortable texture.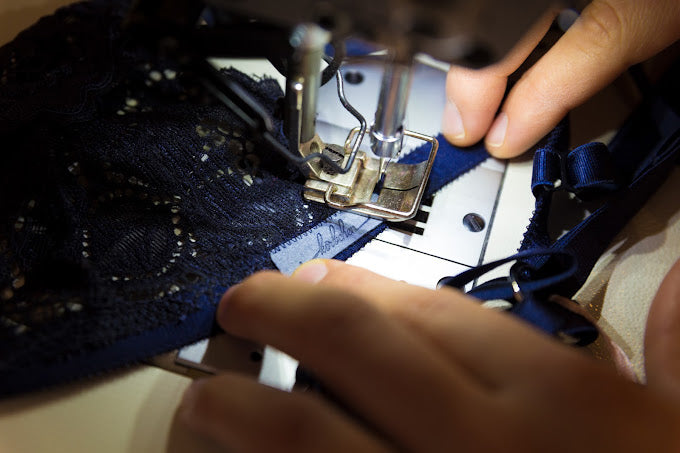 Handwork at the highest level
There is a part of us in every piece of laundry
Each piece of laundry was sewn with a lot of love and conscientiousness either by us, Victoria and Elisabeth, or by one of our seven great employees Mira, Monika, Rosi, Lea, Julia, Sascha and Sabrina.
You can see that in the result - and you can feel it too
Consciously sustainable sourcing
Because fair fashion begins with the materials
We obtain all our materials from overproduction and "leftovers" from the European luxury fashion industry, "rescued tips" so to speak.
We also purchase lace, rubber straps, etc. from various traditional companies, mostly from Germany and Italy.

Since 2021, almost all newly produced lace and swimwear have been made from recycled fibers.