Because we wanted it that way ourselves, and because we have heard your wish again and again, we have now sewn super comfortable "cycling shorts" for underneath in the summer of 2022: made of very soft fabric, light and cuddly, and perfect under skirts and dresses, to prevent rubbing of thighs.
Our Nele cycling shorts in light pink are made from a soft, ribbed Tencel jersey and have a soft, wide elastic waistband on the upper edge. The pants are cut to the waist and about mid-thigh and are perfect for wearing under light-colored clothing. Of course you could also wear it as outerwear, but we designed it more for underneath ;)
Unsere Loungewear, die ja zum Großteil aus Naturfasern besteht, ist sehr unkompliziert zu pflegen. Wir empfehlen, die Stücke bei 30 Grad Feinwäsche in der Waschmaschine zu waschen. Bügeln ist zwar problemlos möglich, aber nicht notwendig, da die elastischen Fasern sich quasi von alleine wieder glätten, wenn du die Stücke zum Trocknen aufhängst.
Wichtig wäre, auf Weichspüler und Waschmittel, die Bleiche enthalten, zu verzichten, und die Stücke (gerade am Anfang) mit ähnlichen Farben zu waschen.
Jersey: 95% TENCEL Modal, 5% Elastan

Der unglaublich angenehme Naturfaserjersey besteht zum Großteil aus Tencel, einer innovativen Faser, die in Oberösterreich aus Buchenholz gewonnen wird.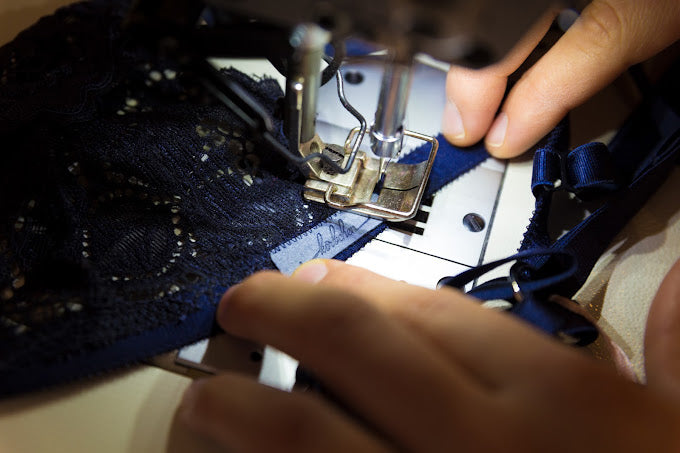 Handwork at the highest level
There is a part of us in every piece of laundry
Each piece of laundry was sewn with a lot of love and conscientiousness either by us, Victoria and Elisabeth, or by one of our seven great employees Mira, Monika, Rosi, Lea, Julia, Sascha and Sabrina.
You can see that in the result - and you can feel it too
Consciously sustainable sourcing
Because fair fashion begins with the materials
We obtain all our materials from overproduction and "leftovers" from the European luxury fashion industry, "rescued tips" so to speak.
We also purchase lace, rubber straps, etc. from various traditional companies, mostly from Germany and Italy.

Since 2021, almost all newly produced lace and swimwear have been made from recycled fibers.