Our lace panties Angela made of the finest azure blue lace goes perfectly with bralette Johanna in azure.
The narrow lace panties have a slightly narrower cut in the back, so that the bottom is beautifully staged with the Brazilian look. As with the bralette, we have also used a soft velvet elastic band for the panties, so that Angela and Johanna also go perfectly together in the set.
A cotton gusset is also used in the crotch for optimal comfort
Wir empfehlen, unsre Wäsche in ein Wäschesackerl zu geben, damit die Spitze nirgends in der Maschine oder an andren Wäschestücken hängen bleiben kann. Natürlich bleibt die Wäsche umso schöner, je sorgsamer du sie wäschst, also im Optimalfall nur bei 30 Grad Feinwäsche. Wichtig wäre außerdem, auf Weichspüler und Waschmittel, die Bleiche enthalten, zu verzichten, da Bleiche die Elasthanfasern angreift. Ansonsten ist die Wäsche aber sehr unkompliziert in der Pflege – denn wir möchten Lieblingswäsche machen, die man jeden Tag gerne trägt, und dafür ist eine einfache Pflege essentiell. <3
Spitze: 85% Polyamid, 15% Elasthan

Samtbänder: 90% Polyamid, 10% Elasthan

Jersey: 96% Viskose, 4% Elasthan

Die wunderschöne Wäschespitze beziehen wir aus einer Überproduktion, sie ist sozusagen "gerettet".

Die Samtbänder kommen aus italienischer Produktion.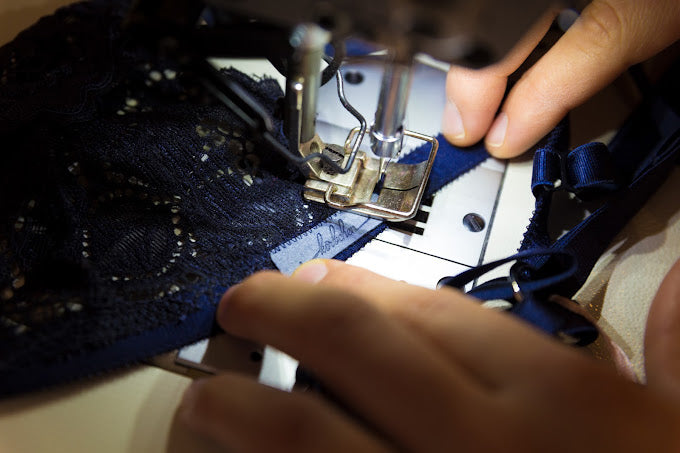 Handwork at the highest level
There is a part of us in every piece of laundry
Each piece of laundry was sewn with a lot of love and conscientiousness either by us, Victoria and Elisabeth, or by one of our seven great employees Mira, Monika, Rosi, Lea, Julia, Sascha and Sabrina.
You can see that in the result - and you can feel it too
Consciously sustainable sourcing
Because fair fashion begins with the materials
We obtain all our materials from overproduction and "leftovers" from the European luxury fashion industry, "rescued tips" so to speak.
We also purchase lace, rubber straps, etc. from various traditional companies, mostly from Germany and Italy.

Since 2021, almost all newly produced lace and swimwear have been made from recycled fibers.