After we only wore our sports bra no. 1 Agneta for gymnastics lately, it was about time to develop a second style - and tadaaaa: Here she is, our Annifrid.
This ultra-comfortable sports bra is double-worked (i.e. two layers of fabric) in such a way that it can be turned around - either all black or dark blue with black trim. Annifrid hasn't worked in any seams at the front, so the firm jersey wraps and supports the chest optimally, no matter how strenuous it gets. Annifrid has a reinforced elastic band under the breast, which gives a great feeling of support - and thanks to our proven large variety of sizes, everyone will find the exact size so that this sports bra fits great, not too wide and not too tight. The two geometric lace details - one on the strap and one on the side - are very special on our Annifrid. For this we use remnants from the cut of Bralette Anna (for optimal use of fabric) - and while the lace on Bralette Anna looks romantic and delicate, in this variant Annifrid it gives a very special touch and looks super sporty due to the geometric pattern. However, the tip not only has optical advantages, but also packs the breast very well on the side - for optimal support! - and is also a lot more air permeable than the two layers of fabric, which is also very comfortable to wear.
In contrast to Agneta, Annifrid only has one set of straps, but the straps are a lot wider and also a bit softer than Agneta - that means they lie comfortably on the shoulders, feel soft but still give great support. The straps are crossed in the back.
As far as the material is concerned, on the one hand we used a black bikini fabric, which is characterized, among other things, by the fact that it is super saltwater resistant and dries quickly. The dark blue sports jersey is also a bikini fabric, the same one we use for our Attina top, for example.
Wir empfehlen, unsre Wäsche in ein Wäschesackerl zu geben, damit die Spitze nirgends in der Maschine oder an andren Wäschestücken hängen bleiben kann. Natürlich bleibt die Wäsche umso schöner, je sorgsamer du sie wäschst, also im Optimalfall nur bei 30 Grad Feinwäsche. Wichtig wäre außerdem, auf Weichspüler und Waschmittel, die Bleiche enthalten, zu verzichten, da Bleiche die Elasthanfasern angreift. Ansonsten ist die Wäsche aber sehr unkompliziert in der Pflege – denn wir möchten Lieblingswäsche machen, die man jeden Tag gerne trägt, und dafür ist eine einfache Pflege essentiell. <3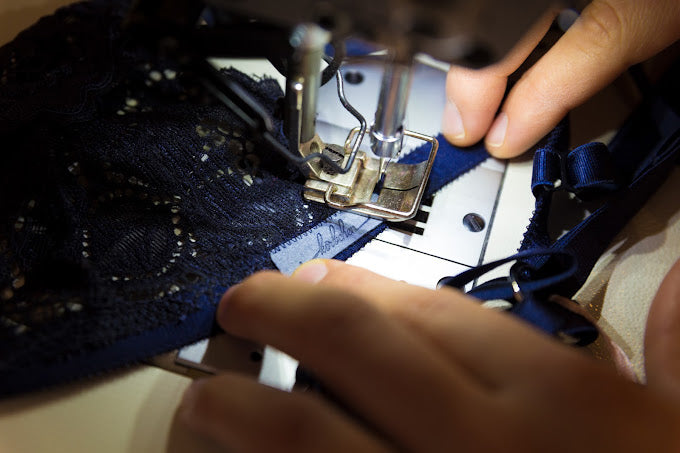 Handwork at the highest level
There is a part of us in every piece of laundry
Each piece of laundry was sewn with a lot of love and conscientiousness either by us, Victoria and Elisabeth, or by one of our seven great employees Mira, Monika, Rosi, Lea, Julia, Sascha and Sabrina.
You can see that in the result - and you can feel it too
Consciously sustainable sourcing
Because fair fashion begins with the materials
We obtain all our materials from overproduction and "leftovers" from the European luxury fashion industry, "rescued tips" so to speak.
We also purchase lace, rubber straps, etc. from various traditional companies, mostly from Germany and Italy.

Since 2021, almost all newly produced lace and swimwear have been made from recycled fibers.