Bralette Camilla is a relatively new style for us, and the slightly higher-cut cups are connected at the center front with a seam - which makes you feel wonderfully held and "wrapped up", despite the delicate, quite transparent lace. Lace corners are also attached to the side of the cups as extensions, so that the breasts also hold well at the sides and feel wonderfully held from all sides without anything "falling out". Overall, Camilla is a cut that looks super delicate - but is incredibly comfortable and stable to wear.
The underbust band is about 7 cm wide and has no fastener in the back, so Camilla can be slipped on - which feels incredibly comfortable. On the upper edge of the underbust band, on the inside, a pleasantly firm elastic is sewn in for optimal support, which ensures that the bralette stays where it should - but still doesn't cut in and feels super soft. As always, the straps are adjustable in length and run straight to the back.
We made Camilla in aubergine from a recycled lingerie lace that we source from Dresden - super soft on the skin, and super sustainable and good for the environment
Wir empfehlen, unsre Wäsche in ein Wäschesackerl zu geben, damit die Spitze nirgends in der Maschine oder an andren Wäschestücken hängen bleiben kann. Natürlich bleibt die Wäsche umso schöner, je sorgsamer du sie wäschst, also im Optimalfall nur bei 30 Grad Feinwäsche. Wichtig wäre außerdem, auf Weichspüler und Waschmittel, die Bleiche enthalten, zu verzichten, da Bleiche die Elasthanfasern angreift. Ansonsten ist die Wäsche aber sehr unkompliziert in der Pflege – denn wir möchten Lieblingswäsche machen, die man jeden Tag gerne trägt, und dafür ist eine einfache Pflege essentiell. <3
Spitze: 82% recyceltes Polyamid, 18% Elastan

Träger und Unterbrustband: 90% Polyamid, 10% Elasthan

Schieber und Ringe: Zamak

Die Spitze für Cups und Unterbrustband beziehen wir aus deutscher Produktion, wo sie hergestellt und gefärbt wurde.
Träger und Unterbrustgummis beziehen wir aus Italien.
Alle unsere Metalldetails (wie Schieber und Ringe) beziehen wir aus Frankreich, sie sind speziell für den empfindlichen Wäschebereich gemacht und natürlich allergikergeeignet und nickelfrei :)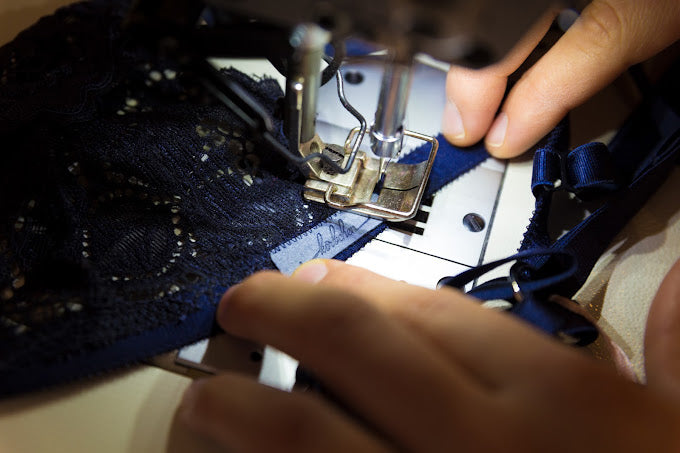 Handwork at the highest level
There is a part of us in every piece of laundry
Each piece of laundry was sewn with a lot of love and conscientiousness either by us, Victoria and Elisabeth, or by one of our seven great employees Mira, Monika, Rosi, Lea, Julia, Sascha and Sabrina.
You can see that in the result - and you can feel it too
Consciously sustainable sourcing
Because fair fashion begins with the materials
We obtain all our materials from overproduction and "leftovers" from the European luxury fashion industry, "rescued tips" so to speak.
We also purchase lace, rubber straps, etc. from various traditional companies, mostly from Germany and Italy.

Since 2021, almost all newly produced lace and swimwear have been made from recycled fibers.