Our body Ella is the perfect everyday body - comfortable, super beautiful, practical.
For the most part, Ella consists of a comfortable viscose jersey, but the high lace cups - also lined with jersey - give the body that certain something.
Ella also has a delicate lace insert on the back, so that the body is beautiful to look at from all sides. The straps are straight and conveniently adjustable in length. We chose a "normal" jersey cut for the buttocks, so that Ella is super comfortable even without pantyhose underneath, and nothing pinches or pinches.
The special thing about Ella's cut is that we have relied on our proven system, which also works so well with our bralettes: Ella sits a little tighter under the breast and thus provides great support, so that you can wear Ella instead of a bra or bralette, without losing the grip feeling. Cups are then attached at the top, which can also be adjusted to one size.
Ella has a snap fastener at the crotch, and so that nothing pinches uncomfortably, we have processed the corners round, which means that Ella is incredibly comfortable to wear, without any edges or corners.
Regarding the sizes: In principle we sewed Ella in S, M and L for the time being, whereby these sizes fit as follows (for a height of 1.60-1.75):
S fits panty size S and bra size S70, S75
M fits panty size M and bra size M70, M75, M80, S80
L fits panty size M and L and bra size L75, L80, L85
Of course, we are aware that bodies need a lot more variety of sizes, since it is a one-piece suit - but you are welcome to leave us your "normal" bra size in the comments, and your height, and then sew we specially the size you need
Unsere Loungewear, die ja zum Großteil aus Naturfasern besteht, ist sehr unkompliziert zu pflegen. Wir empfehlen, die Stücke bei 30 Grad Feinwäsche in der Waschmaschine zu waschen. Bügeln ist zwar problemlos möglich, aber nicht notwendig, da die elastischen Fasern sich quasi von alleine wieder glätten, wenn du die Stücke zum Trocknen aufhängst.
Wichtig wäre, auf Weichspüler und Waschmittel, die Bleiche enthalten, zu verzichten, und die Stücke (gerade am Anfang) mit ähnlichen Farben zu waschen.
Jersey: 96% viscose, 4% elastane

Lace details: 80% polyamide, 20% elastane

Supports and edging: 90% polyamide, 10% elastane

Sliders and rings: Zamak

The jersey used, from which most of the bodysuit is made, is made of viscose, a fine natural fiber obtained from beech wood. We obtained the used lace from an overproduction and so to speak "saved".

All our metal details (such as sliders and rings) are sourced from France, they are specially made for the sensitive lingerie area and of course allergy-free and nickel-free :)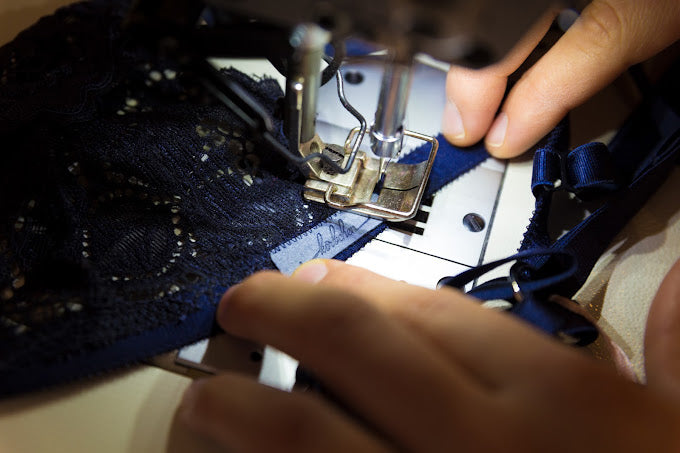 Handwork at the highest level
There is a part of us in every piece of laundry
Each piece of laundry was sewn with a lot of love and conscientiousness either by us, Victoria and Elisabeth, or by one of our seven great employees Mira, Monika, Rosi, Lea, Julia, Sascha and Sabrina.
You can see that in the result - and you can feel it too
Consciously sustainable sourcing
Because fair fashion begins with the materials
We obtain all our materials from overproduction and "leftovers" from the European luxury fashion industry, "rescued tips" so to speak.
We also purchase lace, rubber straps, etc. from various traditional companies, mostly from Germany and Italy.

Since 2021, almost all newly produced lace and swimwear have been made from recycled fibers.